Our helpful guide in pursuing an AO. (an interlude from the election coverage)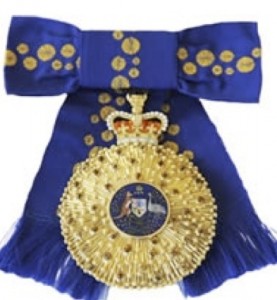 Dear reader we are often asked, "How do we provide such worth to the community in such a spirit of public largesse"? Our response; not for the good for it, the warm inner glow, but the knowledge, firmly based that our charitable works place us in perfect line to receive, an Order of Australia. Indeed, we've worked up quite a sub consultancy in assisting other noteworthy heavy lifters in our society to achieve their aim. That discrete little emblem on the lapel, and the modesty of recognition when in the public realm. Self satisfaction is its own reward. And never forget the ingratitude of those recalcitrants, (Dick Smith and the like) who've openly refused an A.O. That is the apotheosis of being "Un -Australian".
Public and Charitable Works? Of particular concern is the delusion, that an AO requires a prodigious task of pubic works This is a Furphy, a compete nonsense. More often than not an AO is awarded to an individual for just doing their work. And they get paid handsomely as well. We believe, and stand corrected that the rise to this emblem of mediocrity is all about principle 101; 'It's all about who you know'. So for the edification for those who also require the ultimate expression of public trust we give you this ten point guide to ensure that your application is endorsed, accepted and promulgated. It's a proven plan, and all we demand in return is that the recipient send us money, postal note, cheque to the value of one hundred dollars to our headquarters, (IPA Adjunct Office P. O Box 111 Carlton). So obey the ten commandments and make your A.O (Absolutely ordinary). a cert.
PCbyCP's Twelve Point Plan
1 If you've never ever done anything, publicly spirited, canvass a minimum of half a dozen individuals within the public and private realm and offer then inducements to say nice things about you. Always remember personal real estate acquisition is referred to as 'wealth distribution'. You can always use property to manifest public spiritedness. That's how Australia works. Keep submissions to minimum 400 words, Verbose testimonials are incomprehensible, as judges prefer dot points.
2 Get onto a board. Several will be excellent. Sure fire bets are Arts boards as you'll have openings and functions in which drink is freely distributed. The overall benefit to the community is unfathomable.
3 Assume that the voting committee are as vainglorious, self serving and pompous as yourself. Defer from using the first personal singular to the third person plural. Such english usage sanctifies the text.
4 Compile a CV of your public and professional duties.  Photographs taken at significant events are important.  If you haven't got any, attend the Red Cross Telephon, any opening at the Venice Biennale, or any Moomba sub-committee.
5 Be aware of disadvantaged people. Bonus points for having photograph taken with disabled or marginalised folk. Mental heath victims are preferable as any public photo can be captioned, "mental health open day" That establishes your credentials as compassionate and caring.
6 Get on a church or school board. You may loathe education and church, but being on the board, establishes you credentials as community minded.
7 Write you autobiography. Enmesh yourself into the story of Australia. You may be a suburban real estate agent, but by changing, such terms as real estate, subdivision and Mortgage finance, into 'Community wellness', 'prosperity, sharing' and 'social contract', you'll strike the right key with those community minded.
8 Be earnest. The AO Committee hates self deprecating individuals, be bold and strike out. If you've made lots of money, even if you inherited it, tell them how you started from nothing, and how, via tax incentives, and philanthropy, describe how you gave it all away for the benefit of human kind.
9 Go to the RSPCA and be seen with a lost dog. Always guaranteed to work
10 Be seen with children.
11 Describe how your life struggle reflects the glorious noble evergreen legacy of Anzacs and national hero-dom.
12 And on a final note, never ever question the status Quo. If there's one thing that AO committee cannot stand, it's those who have the potential to bite the hand that feeds them. Talk of dis-advantage and lack of opportunity, but never ever disparage government.
AO testimonials. We also offer a service to write testimonials, and next week we shall be presenting favoured testimonials as submitted to the AO awards Subcommittee, it makes for compelling reading.