WARNING: This post includes a picture of naked children engaged in innocent play.
The hunt for pedaphiles continues apace.  So long as we do not look in the obvious place – within the family – we are sure to find many we can blame and feel good that we are rooting out this evil.  Teachers and the clergy seem to be the main targets.  Last year Cec posted about an experience with his granddaughter that has ongoing implications for the way grandparents and even older parents relate to their and to all children.  This story of Minnesota State University football coach Todd Hoffner is just another example of life damaged by flawed accusal.  
Hoffner, 47, last ran a practice at N.C.A.A. Division II Minnesota State on August 17, 2012.  Called off the field to a meeting, Hoffner was stunned to learn that the university had put him on administrative leave.  He had just signed a four year contract extension after leading the Mavericks to the 2011 Northern Sun Conference championship and compiling a 34 – 13 record over four seasons.
But a technician repairing Hoffner's university issued smartphone had discovered a video of Hoffner's three young children dancing naked; the oldest was nine.  The university turned the video over to the police, and Hoffner was charged with two felony counts of child pornography.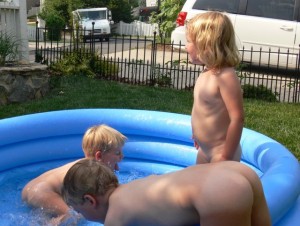 The charges were dismissed three months later when the judge determined that the video depicted innocent play.  Still, the university suspended Hoffner for 20 days, reassigned him and ultimately fired him last May.  The case went to an arbitrator.
The 72 page decision ……… said the university had no grounds to fire Hoffner and ordered him reinstated immediately with back pay.  …….
Supporters of Hoffner say the university overreacted when the video surfaced, two months after Jerry Sandusky, a former Penn State assistant football coach, was convicted on 45 counts of sexually abusing young boys.
……"Somebody had it in for this poor man" (radio commentator) "…… I can't tell you how many times I've heard the word vendetta."
The university president apologised to Hoffner but did not offer a public explanation for why he had been fired.  Hoffner was reinstated as coach in mid April 2014
NYT 20 April 2014, by Pat Borzi.  "Coach returns after arbitration but challenges are far from over"
Hoffner's role is unclear although he has been reinstated to his former position.  Ongoing hostility towards him have to this stage prevented him from actually coaching.