A Bold New Era for Sustainable Fishing.
Dear reader, once again we're at the very forefront of world innovation. In a glorious first for Australian Aquaculture the SUPER trawler M.V Francisco Pelsaert was launched by none other than the Federal Agricultural Minister himself, The Rt Hon. Mr. Barnaby Joyce. Dwarfing the nearby Abel Tasman, at a mere 14,000 tons, the Pelsaert at a whopping big 185,000 tons, (unloaded weight) is absolutely the latest thing in sustainable fishing. Joined for a photo opportunity by the Captain, Oscar Piscorious, the Minister affirmed, 'Australia is at the forefront of sustainable fishing. This mighty vessel will bring certainty to the Australian Fishing Industry. With funding from the Mercury D, (formerly the Uranium Dial company) and the Fuk Yu, (Fukushima irradiated fish co op), the Pelsaert, celebrates the kind of maverick 'can-do' attitude that this country is famous for. This vessel can fish five hundred times more efficiently than a fleet of standard fishing vessels. It's a huge boost for competitiveness, and a win win for export markets'.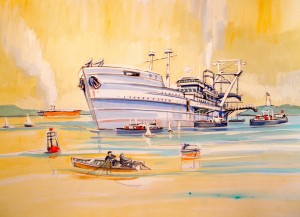 The Super Dooper Trawler M.V.Francisco Pelsaert outside Port Phillip heads. Due to the size of the ship, (185,000 tons unloaded) the Paelsart receives container ships to transship product direct to overseas markets. Abel Tasman steams by in background.
Dr Cecil Coelacanth, from the C.S.I.RO was interviewed after the event to give his opinion at a breakfast hosted by Green Peace and Friends of the Earth. He suggested as he was the last marine scientist in active employment at the CSIRO his opinion was of little consequence. Off camera he was heard to remark 'either way it's a disaster for mankind. They've destroyed fish stocks around the world, I suppose it's inevitable that we'd (the Scientists) be next'. The Minister who dismissed his stance as 'scaremongering', rallied  the crowd with his decision, pursued by National Party senators, to deny tax status to all green groups, and spread the federal money more evenly to "Proper and Sustainable Industries'. 'These troublemakers, (green groups) have had it good for too long, they're stopping us from realising our potential and severely limiting growth! This is not good for the taxpayer. This is not good for Humanity'!! Responding to a suggestions from a Fairfax journalist of CSIRO predictions of total collapse in three years time, his response was swift. 'Three Years? Isn't that beyond the electoral cycle?. Next Question'?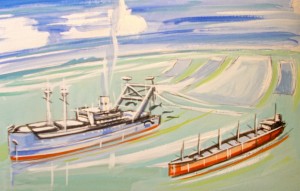 M.V Paelsart rendezvous with Super container Transport Fukiyama Maru off Flinders Island in the Furneaux group after completing " clean sweep " of Tasman Fisheries.
As for the trawler itself it possesses all the latest technology, with quadruple reel long line nets it can harvest fish, dolphins, seals, shark, (for the lucrative shark fin trade), and exclusively endangered species, (Coelacanth, Narwhale and Blue Whale) in extraction of basic ingredients for the booming Chinese Aphrodisiac Industry. 'For years we've been lagging behind Africa in the exploitation of the White Rhino and another endangered species targeted for Chinese aphrodisiacs. Now at last we stand proud as world leaders. There is massive demand among Chinese business leaders, (successful party members), and this vessel will only service the tip of the iceberg'. And emphatically I'd like to say to our overseas customers, "This Iceberg is Open for Business'!!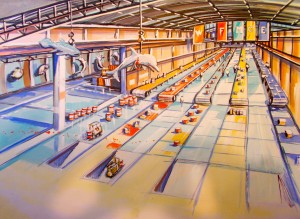 Open for business!! Inside one of the processing bays. Product being processed and canned for export. Row Labels indicating basic streams of produce. 'W', Whale. 'F', Fish, (general). 'M', Mammal, (Seals,Dolphin,Walrus). 'C', Crustacea. 'E', Endangered. Note conveyor for processing and overhead gantry delivering newly caught species; Coelacanth, Dolphin, Seal , Narwhal, Oarfish, Walrus and Patagonian Tooth Fish.
"This technology will ensure that there's nothing left for our competitors, and wrests control once and for all from small scale unreliable suppliers, (the commercial fishing industry) and unions. It places firm control within a centralized fishing authority (Aquafresh) that can guarantee, harvesting, processing and sale in one integrated facility. That's right; we harvest, we can, and we out-ship in one move! It saves and it serves! With our Japanese partners it absolutely puts Science at the forefront with our ongoing Whale Research.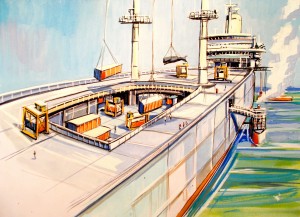 Loading of processed and pre-processed 'product' onto container ships for export. 
Asked about his shares and alleged conflict of interest in the Coles/Woolworth's merged, 'Aquafresh', co owners of the boat, he said; 'So what's wrong with a Minister taking an interest in the market, it's a tick from me and that's a great big tick for consumer confidence'. 'Why wouldn't I invest. This Trawler employs upwards of twelve people. That's jobs for working families. It puts growth back into the economy. There's plenty more fish in the sea, and by hook or by crook we'll make it profitable, Asked 'why'? by a Fairfax reporter; 'Because, Australia is open for business'. Who could disagree?