First dispatched 25 May 2014
Բարի երեկո իմ ընկերները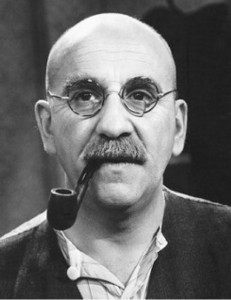 I've mentioned before, that a long time ago I had the pleasure and privilege of showing  Warren Mitchell around Yuendumu.
Warren whose most famous character was Alf Garnett in the TV series 'Till death do us part' told me that "The most effective way to fight prejudice and racism is to make it ridiculous"
I like to think that in a small way I've contributed to this fight.
Through circumstances, I didn't get to see much of Alf Garnett on TV. 'Till death do us part' was my dad's favourite TV show. As he told it to me, in one episode Alf is landed with a brown baby that he has to take care of. Throughout the episode Alf becomes increasingly fond of his charge, and in the end declares that "you're an OK little chocolate"
My first dog was called Glue (to the suggestion that we should call him 'Blue' one of our children enthusiastically responded "Yes, Glue! That is a good name")
Eventually Glue died in my arms from a heart condition and was replaced by Chocolate which was her colour.
A veterinarian researcher did a study on Yuendumu dogs. From memory his research focused on the possibility that dog ticks played a role in disease transmission in humans. I recall consigning a match box full of ticks by Australia Post to him. On one occasion Chocolate had a litter of pups at the same time as another younger dog that lived with us. Wendy came home to find the young bitch running around yelping and clearly agitated and distressed. Chocolate had kidnapped her litter and put the pups with her own.
My brown skin baby they take him away….
https://www.youtube.com/watch?v=m6qmgMXt-mw
…. Sometimes I feel like a motherless child….
https://www.youtube.com/watch?v=_jbKQHrdW7w
Wendy returned the pups to their rightful owner again and over again until finally we had to separate and restrain Chocolate and force her to confine her urges to her own pups.
We controlled Chocolate.
When I told the veterinarian what happened, he told me this was typical dingo behaviour. Dominant dingo bitches take over the rearing of other's pups (sort of like Cuckoo birds in reverse). As part of his research he'd found that most if not all Yuendumu dogs had dingo DNA in their genetic makeup.
Denial is a common human defence mechanism that I doubt any of us is entirely exempt from. I have difficulty however in coming to terms with such extremes as denial of the Holocaust, the Armenian Genocide and the Rape of Nanking. Where are these deniers coming from? What motivates them? Ես չեմ հասկանում  I don't get it.
In Yuendumu we have some light brown skin people, who  escaped being taken away. They tell some fascinating stories of how their families managed to evade the authorities, including having their skin blackened by plant material.
Yet in Australia we have them: Stolen Generations Deniers:  https://www.youtube.com/watch?v=7A9jNAuxmds
Jupurrurla is one of the Yuendumu light brown skin people, who was not taken. A few days ago he told me that he'd received a letter from his full sister, whose existence he had been oblivious to.
"My mother never told me, she must have been kuntangka"…. shamed. Ashamed of having let them take her daughter?  As if she'd been able to do anything about it! They protected her.  They controlled her.
https://www.youtube.com/watch?v=zLXzKYP1uCw
We discussed the Stolen Generations. In days gone by, government agents just came and took the children.  No ifs no buts.  All under the direction of the euphemistically named Chief Protector of Aboriginals.
These days a new Stolen Generation is happening.  These days they operate with copious paper work and court orders and new euphemisms.  Stronger Futures indeed.  Stolen Futures je pense.
An employee of the Community Child Safety & Wellbeing Teams, Department of Children and Families, Northern Territory Government recently became resident in Yuendumu.  The main purpose of this Social Worker, appears to be to organize Community Child Safety Meetings.  We've been told that we can "make a referral to me with a specific concern" "Gran-ma why do you have such large teeth?" …No you won't fool the children of the revolution… https://www.youtube.com/watch?v=29obokz1uxs
My discussion with Jupurrurla about the past and present taking of children culminated in him saying:
"Warnapari-piya" …. they're Just like Dingoes.
Մինչեւ հաջորդ անգամ
I'll wait for a thousand years….
https://www.youtube.com/watch?v=1r5beMs4ymM
(Google Translate- Armenian)