"Would you like to see the pudding menu?"
"I beg your pardon."
"Would you like to see the pudding menu?"
Oh joy, oh unbound joy!  Not in a hundred years did I expect a young waiter to utter those beautiful words.  Not "Wouldja like any sweets?" nor "Would sir desire the dessert directory?".  No, just the plain speaking, the word "pudding" which means so much, which forbids deceit, has no truck with falsity, nor the hyperbole associated with so much modern sweet food.  My heart skipped beats, my mind thought first of my mother, my memory raced and my salivary glands wobbled in anticipation.
When one hears the word "Pudding" (how often can I say it without joyous delirium setting in?) there can be no pretense.  You know a Trifle offered as Pudding is not a mere trifle, certainly not to be trifled with, it will have been started days ago, (usually by the grandmother) and all the sherry in the house will have been used in its making.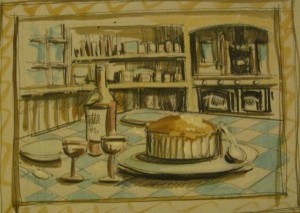 Perchance there is steam pudding, perhaps ginger steam pudding, with a brilliant caramel sauce.  Or maybe, just maybe (and this is the one thing that leads me to admit a chance of there being a God) – just maybe a Hot (gooey) Chocolate Pudding.  With Clotted Cream.  Proper Clotted Cream lovingly skimmed from the top of carefully scalded fresh milk from a Jersey cow.  Thick and lumpy, with a satiny feel.  Against that Nigella Lawson has no chance, even with her fabulous assets.
And what about all those other wonderful Puddings?  This really is validation therapy writ large.  I implore therapists the world over – forget the therapeutic gardens, forget pets, go for the Puddings.  Bread and Butter Pudding, Sago-plum-bago, Christmas Pudding (and the Brandy Butter!) Baked Rice Pudding, Treacle Sponge or Rhubarb and Pear Crumble…oooh.   And what about Plum Pudding, Clootie Dumplings, Spotted Dick or a Jam Roly-Poly?
Baked, steamed, boiled, I remembered so many of the ways Mum used to cook them.  I can picture the dishes in which they were cooked, the tin the dried fruit was kept in, the old flour sifter, the wooden spoons, the double boilers, the balance, the measuring cups and jugs, and the old black stove.
This young waiter, gloriously unpretentious, utters the words that bring me such joy, such happy memories.
I had just eaten what can best be described as a mediocre steak at the Yacht Club where I was a guest.  I was deep in reverie contemplating the Orkney, mobility scooters, and absent friends – my mind was wandering.  (However, "not all who wander are lost" as the saying goes.)
"No thank you" I say, and head for bed.