Under the Radar, first published February 2013
Kia Ora
http://www.youtube.com/watch?v=ufaNpVhC-F8
On 6th.February  Aotearoa celebrates Waitangi Day. In Australia, Waitangi Day this year was under the radar. On the same day PM Julia Gillard delivered her annual 'Closing the Gap Statement' to parliament. The latter elicited very little publicity or discussion. It was almost under the radar.
In her statement our PM blasted the newly elected NT government for its alcohol policies. It was reported that " the rivers of grog are back on Aboriginal communities". Here we go again… no more are rivers of grog flowing on Aboriginal communities (definitely not in Yuendumu) than they have finally located the Weapons of Mass Destruction in Iraq. Yes, a serious increase in alcohol fuelled violence and anti-social behaviour has occurred since the NT Government scrapped the Banned Drinker Register (BDR). The BDR required patrons-black and white- to show ID when buying take away grog. The increase in violence is almost entirely confined to urban centres. The current NT government's alternative to the BDR is to have a heavy police presence at liquor outlets and to harass and question people to ascertain whether they are going to drink their purchases somewhere where it isn't illegal to do so, and seizing their grog if they are unable to so demonstrate. No prizes for guessing what the predominant colour of the targeted patrons is.
The leader of the Federal opposition's response to the Closing the Gap statement was worthy as material for a University Psychology course. When egocentricityand narcissism are discussed, he'd make an interesting case study.
Mr. Rabbit kept referring to his sorties to  outback Aboriginal communities to 'lend a helping hand'. He also repeatedly lauded Noel Pearson and Cape York Peninsula. The rest of Aboriginal Australia was under the radar. Like a Ken-doll we have already seen Australia's Action-man in various disguises, fish filleter, racing cyclist, lifesaver, fire fighter, you name it he's done it…. Tony Abbott is definitely not under the radar. More like in your face.
To wrap up his Closing the Gap Statement reply, Tony Abbott said that should he become the next Australian PM, he would spend a whole week on an Aboriginal Community each year of his leadership. I have been unable to work out if this was a promise or a threat.
Almost three years ago he visited Alice Springs. This is what I wrote in a Dispatch back then:
"As reported by Dan Moss in the Centralian Advocate, Mr. Abbott paid a visitation upon an Alice Springs 'town camp' with an entourage of politicians and journalists (17 people in all). I have been told that this visit was unannounced and uninvited. They descended on and filmed an unfortunate amputee sitting in 'third world conditions' (I saw it on the ABC TV News). TA gave him a spiel and asked him: "I'm here to help- what can I do?"
The fellow said he'd like some firewood! He didn't mention a 'Closing of the Gap' or a decent house, or a 'real job', none of that, just firewood!  Dan Moss wrote: "Did Abbott go fetch firewood? No. He and the stage hands moved on to the next poor bugger to run the same spiel"
…….When our 9 year old grand-daughter overheard us talking about this she chimed in "He'll have to get his own firewood….. by hopping"….
Regina Spektor- Firewood:…
…and nothing can stop you from dancing…
…don't look so shocked,
   don't judge so harsh
   you don't know, you're only spying…
http://www.youtube.com/watch?v=7KYTWTnbMDE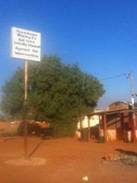 The above sign says "Yuendumu Mining Co. Est. 1969 Locally owned. Against the Intervention".
Often now visitors ask me what does it mean. The Intervention (and its euphemistically named continuation: 'Stronger Futures') are under the radar.
PM Gillard visited New Zealand a few days ago. The main announcement emanating from that visit is that 150 refugees will be passed on from Australia to New Zealand per annum from 2014. Not a word about the Treaty of Waitangi, and the relationship between New Zealand's native and colonizer populations. Such is under the radar.
I am told that the Maori/Pakeha relationship is far from perfect, it is none the less light years ahead of Australia's relationship with its First Peoples.
Last night I saw a New Zealand film on SBS (Australia's 'ethnic' TV channel)…. It is called 'Boy' and is an absolute gem. It is charming, touching and hilarious all at once. Everyone knows about 'Lord of the Rings' and 'The Hobbit'. 'Boy' is under the radar.
After writing this Dispatch, I trawled youtube for some suitable music. Something uncanny… I caught Dispatch: Under the Radar- "Open Up":
http://www.youtube.com/watch?v=JaOr6FfQrBg
The guitarist is a doppelganger for my musician brother.
As usual I'd like to finish on a note of optimism. Below a list received from Yuendumu's GEC (Government Engagement Coordinator) that replaced our GBM (Government Business Manager), but must be a doppelganger of the latter, as her looks, behavior, salary and accommodation etc. are identical:
Scheduled Visitors to Yuendumu :
4/2 Kathleen Anderson and Ra Schwalger –  DEEWR  Warlpiri Boarding Facility Discussions
4/2 – 8/2 Helen Kennedy – Batchelor  Conduct VET training at school
4/2/ – 8/2 Ear Nose and Throat Team – DoH  At the Clinic all Week.
4/2 – 6/2 Cliff Alexander, Erin Turner and Sonia Dare from Waltya  Money Management Training
5/2 Alf Leonardi and Rosemary Andrews  – DECS Discussions re proposed Trade Training Centre
6/2 – 7/2 Jenny Davis and Robin Hall – FaHCSIA Stores Team Stores visit
6/2 – 8/2 Joan Whitehead and Fiona Stokes Personal Hygiene Training
7/2 – 8/2 Amy Peachey – Centre for disease Control DoH Trachoma Health Management
10/2-15/2 Gene Martin – Dept. of Housing Tenancy Management
11/2 – 15/2 MyPathway/ITEC JobSeeker Servicing
12/2-14/2 Nick Bewg Families as First Teachers Support FaFT program
21/2 Ray Janz – Cogent Business solutions Visit WYDAC
*These are known visitors as of today – scheduling may change and there may be others that I am unaware of…
I shouldn't have copied the list. You'll all be jealous now.
My favourite is the 'Personal Hygiene Training' but I just noticed I have missed out. Joan and Fiona arrived and left Yuendumu under the radar.
Ain't that a shame!   http://www.youtube.com/watch?v=KNNiBcU3BR4
No matter, the Warlpiri Nation has had that bureaucratic socio-political game known as "pick up the soap…" often played against it.
http://www.youtube.com/watch?v=huZlL58yvyM
E haere rā
 TOMORROW: Poetry Sunday – Mr Lionel Fogarty