first posted 26 March 2013
All stand!
Last Thursday was an important day on the Yuendumu calendar.
A plane load of bureaucrats arrived to launch a 'Closing the Gap'-Federal Government initiative: the $1.5 billion Remote Jobs and Communities Program with its inevitable acronym 'RJCP'.  Free lunch and a barbeque were provided under the 'Telstra Dome' like roofed basketball Court.  Invitation posters had been put up (see attachment) inviting the Yuendumu citizenry to an 'Information and Consultation session'
Do you recall that famous 1970 "Suppose They Gave A War and Nobody Came" poster?
Three locals attended the 'I&CS' (must confess- couldn't resist and made this acronym up myself), all because it fell within their job sphere to do so.
Meanwhile at another Yuendumu Court, 35 criminal cases were being heard.
Whilst these important events were taking place two police vehicles in tandem were prowling the streets of Yuendumu.  They were hunting. They were revenue hunting that is. I did not ask the police how their hunting was going but know they caught at least one person who went to pick up someone at our airstrip and got done $420 for not wearing a seat belt and another $70 for not having his driver's license on him (that he subsequently found in his pocket- too late!). Total $490, only $10 short of a fine a contractor received for placing a portable toilet on a sacred site near the top-end community of Numbulwar, after gaining an Intervention contract in 2007.
That evening many of us drove to Yuelamu (Mt. Allan) 35 Km east of here on the 'back-road'. The language spoken at Yuelamu is Anmatyerre; most Yuelamu residents also speak Warlpiri which is as different to their language as Polish is to French. A screening of 'Coniston' was held at the Yuelamu Basketball Court which had been opened the previous day.   http://www.pawmedia.com.au/library/coniston-massacre-by-lander-river-band-987
The murder of Fred Brooks in 1928 took place at Yurrkuru 55Km north east of Yuendumu. This triggered the so called Coniston Massacre in which during a series of punitive raids probably more than a hundred Aborigines were indiscriminately killed. A subsequent inquiry found the killing of 'blacks' to be 'justified'. Over the years much has been written and filmed on the Coniston Massacre, but what makes this movie refreshingly different is that the story is told from a Yapa (Aboriginal) perspective.
The virtual absence of rancour and animosity could be a lesson to peace makers everywhere.
There is an old 'joke', I think originally from the Pacific: "We had the land and the missionaries had the Bible, then they came and now they have the land and we have the Bible"
In the film it was gently stated "Our land is no longer ours, it now belongs to the Pastoralists and the Miners. We never got justice" without anger or blame.
¿Que te ha pasado Justicia? (Justice what has happened to you?)  http://youtu.be/DF8sIGlI7sg
No justice and no Respect….http://youtu.be/cYbs_O_iMfU
Just as I was starting to despair for the fate of Warlpiridom under the sustained assimilationist multipronged attack, along comes this film showcasing Yapa strength and humour. Any society that  can experience deep sorrow yet so heartily laugh at the oppressors and themselves, has a future. I'm not talking the Federal Government's euphemistic Stronger Futures either.
This dispatch is taken from the posting of 20 June 2012
From the Publishers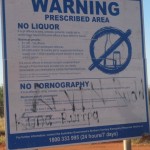 In the wake of Kevin Rudd's non challenge there was a very strong call on NITV Thursday night for the replacement of the Protector of Aborigines, Jenny Macklin, with some-one who might just listen and understand.
The picture on right was taken in May 2012.  The graffiti reads "Kevin Rudd Kuna Rurrpa" and was put on while he was Prime Minister.  We don't imagine the Walpri term "Kuna Rurrpa" is a compliment.